Next:
Pain post hernia repair
Up:
Hernia
Previous:
Inguinal canal
Index
Figure 5: A schematic diagram to demonstrate the shutter and closure mechanisms in the inguinal canal. Compare this to figure 4

The top of the image is towards the head, the bottom the feet. The right hand side of the image is lateral and the left hand side medial.

The arching fibres of the internal oblique and transversus abdominus contract when the muscles of the abdomen contract. This acts as a shutter on the posterior wall to protect it from herniation. This is termed the Shutter Mechanism.

In addition this contraction also narrows the deep ring. The narrowing of the deep ring is termed the Closure Mechanism.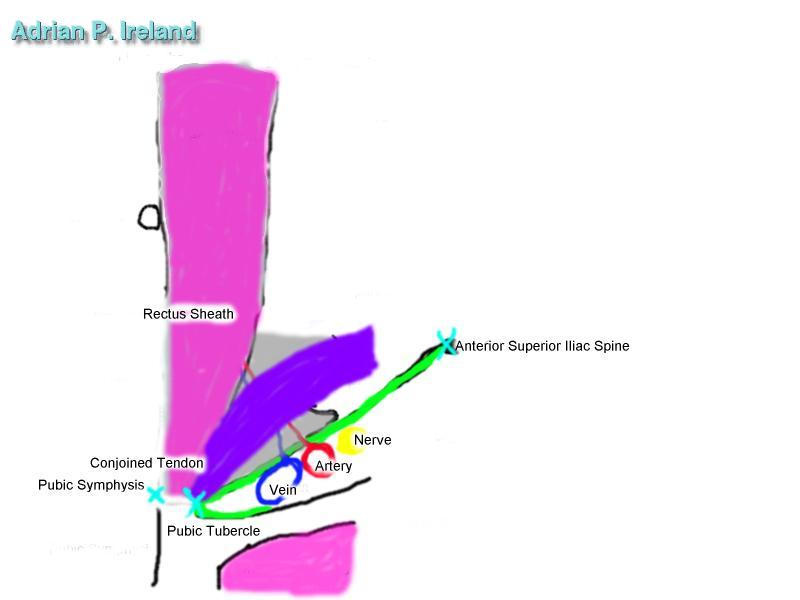 There are two important physiolgical mechanisms that protect again the formation of inguinal herniae with increased abdominal pressure. They are the Shutter and Closure mechanims.
Dysfunction of these two mechanisms may contribute to hernia formation. It has been noted that appendisectomy increases the risk of right sided inguinal hernia threefold. This may be due to dysfuction of the shutter mechanism due to damage of nerves in the abdominal wall at the time of appendisectomy.
---






Next: Pain post hernia repair Up: Hernia Previous: Inguinal canal Index Adrian P. Ireland