Next:
Composition of secretions into
Up:
Content of body fluids
Previous:
Content of body fluids
Index
Figure 4: This diagram summarises the volumes of fluids entering the gastrointestinal tract every day. Four litres enter above the pylorus and four below. Above 1.5 litres are saliva and what is swallowed and 2.5 litres are what the stomach secretes. Below the pylorus 1 litre comes from biliary and pancreatic sectretions and 3 litres from the small intestine. The large bowel secretes a small amount of mucus but is mostly concerned with fluid absorbtion. Of the bilary and pancreatic secretions about 250 ml are bile and the remaining 750 ml are pancreatic.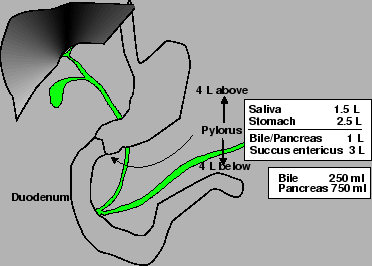 Approximate values for the volume of contents passing through the gastrointestinal tract are shown in figure 4. As an aid to memory the amount of fluid may be divided into 4 litres above and 4 below the pylorus. The former consists of what is swallowed, saliva and gastric juice and the latter bilio-pancreatic juice and intestinal secretions (succus entericus).
Above the pylorus there is about 1.5 litres of swallowed fluid, saliva and 2.5 litres of gastric juice. Below the pylorus there is 1 litre of bilio-pancreatic juice and 3 litres of intestinal secretion. The 1 litre of bilio-pancreatic juice consists of 250 ml of bile and 750 ml of pancreatic juice.
---






Next: Composition of secretions into Up: Content of body fluids Previous: Content of body fluids Index Adrian P. Ireland